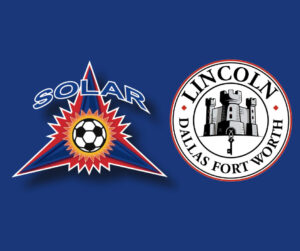 LINCOLN FOOTBALL CLUB DFW TO JOIN SOLAR NEXT SEASON
Solar is pleased to announce the addition of Colleyville-based Lincoln Football Club DFW to the Solar family beginning with the 2023-24 season. Lincoln's director and former Solar player, Anthony Bardon, and his existing staff are coming over and will coach several boys competitive and junior teams. The competitive-age teams will compete in the ECNL RL NTX platform.
The teams will continue to train at their existing facility located at 4401 Colleyville Blvd, Colleyville, and will be hosting tryout sessions over the next few months. "I am delighted to join Solar. The decision to join one of the top clubs in DFW and the country was the right decision for myself and for our group of coaches, families, and players. I look forward to continuing our standard of excellence under the Solar umbrella."—Anthony Bardon, Lincoln FC Director.
"I have known Anthony since his youth playing days at Solar. I have tracked his progress and am extremely impressed with what Anthony and his staff have built and am overjoyed that they have made the decision to join Solar. We look forward to working with him, his staff, players, and families as they transition to Solar Nation next year." -Adrian Solca, Solar Executive Director.
For immediate inquiries regarding these teams, please call (817)269-8772 or send an email to director@lincolnfcdfw.com